Recruitments
Recruitment help you to manage your Job Description, Store Candidate details, candidate communication, interview scheduling and follow-ups.
Recruitment module improve effectiveness of your
recruitment

process by 60% with tools which help you in all related operations.
Interview Process Improvement in which no internal communication required and everything is transparent and can also track effectiveness of interviewer and HR
Candidate Management
You can perform below operation for candidate to hire it
Store Candidate Details
Keep details of professional details
Keep details of past experienced
Manage candidate status
Manage interview and review it
Take follow-ups and reminders
Reference checking and validation
Communication by Email/SMS/WhatsApp
Job Description
Create job description as per your requirements and then share it with candidate to apply for position.
Keep track of candidate applied for then add details in portal
Interview process follow-up and communication is time consuming
Don't know which one is most effective channel for recruitment
Reference checking
Know performance of your Interviewer
Communication with candidate is not centralize
Why Recruitments?
Recruitment is one the most important and crucial part of business to manage all operations.
Did you know what Job Description is?
A job description is a clear and concise outline of a job's required responsibilities, qualifications, and necessary skills. Essentially, a job description is a detailed advertisement for an open position.
The purpose of a job description is to attract qualified candidates to your company or organization.
Importance of Job Description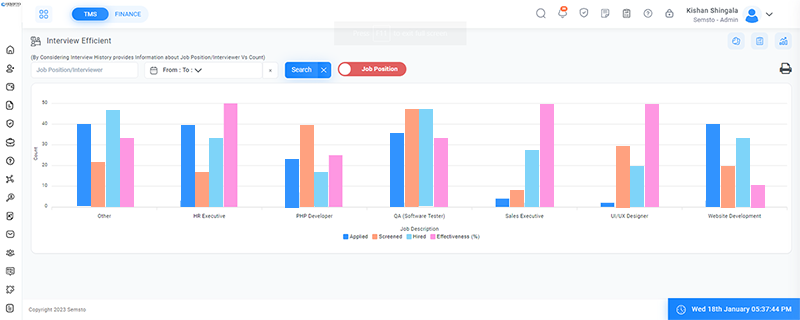 Job descriptions are essential to the recruiting process.
A well-written job description should attract qualified candidates, inform them about the company and the role they're applying for, and set expectations for the employee's first year.
Writing an accurate and effective job description might be time-consuming, but learning how to compose one properly is well worth the effort
Your job description should be descriptive enough that candidates understand if they are qualified for your open role.
What should be included in job description?
Job descriptions should be brief enough to hold the candidate's attention but long enough to give a clear picture of the role and the expectations that come with it.
Job descriptions that fall between 300 to 660 words perform the best on most job board search engines.
It should include the specific type of work, how that work will be completed
Include the skills required for the work
Include the purpose of the work as it relates to the organization's mission and goals.
Structure of Job Description
Job title

It should be clear and short

Company Description

Describe your company's mission and culture, the size of your organization, and what makes your company unique.

Summary of Job

Explain overview of the job.
Mention daily responsibilities
Mention how the role fits into your organization
Mention growth opportunity
Mention how within the company this role will collaborate with

Responsibilities

Mention all responsibilities you can think for this role, then cut full list down to 7-10 key responsibilities
For each responsibilities mention why and how the tasks will be performed
Responsibilities to include

Duties unique to your organization
Day to day activities for position
Financial responsibilities if any
Supervisory responsibilities
Hiring and terminating
Disciplining
Training
Performance evaluation

List of Job Qualification

Mention skills required
Education
Previous Job Experience
Certifications
Years of Experience
Technical Skills
Communication and problem solving expectations
Personal character that you hope for in a candidate

Lastly, divide the skills into two categories: must-have and nice to have. Must-have skills are essential to the position. Nice-to-have skills would benefit the future employee but could either be taught on the job or aren't critical.

Compensation and Benefits

This is optional, but as per survey job seekers say that compensation is the most important part of a job description.
Salary ranges help your job stand out.
Can include perks and benefits like

Paid time off
Family leave
Child Care
Wellness Program
Medical, dental, life insurance
Flexible Hours
In office, remote or hybrid
In-office snacks, breakfast, lunch or coffee
Tuition reimbursement
Career development

Optional Items

Work environment, such as an office or outdoors
Essential physical requirement
Travel Requirements

Verify your job description

Make sure that your job description is proofread before you post it. Check for grammatical errors and spelling errors, simplify sentences as much as possible, and double-check that you've included all necessary elements.

Avoid in a Job Description

High-density job descriptions

A dense job description is difficult to read and qualitied candidates leaving the page before even apply.
Include only essential activity and avoid mentioning task which are occasional
Do not include duties which need to perform in future

Unclear responsibilities

Don't be ambiguous in job description.
For example, instead of writing "Assists marketing manager," write "Assists the marketing manager with content planning by researching keywords, monitoring blog performance, and scheduling topics."

Redundancy

Save your and candidate time by avoiding redundancy.

Jargon

When in doubt, always go with the simpler way of wording something.

Inaccurate qualifications

Mention minimum required skills.
Listing unreasonable expectations might provide you with an overqualified candidate who isn't the right long-term fit for the opening.
Sample profile
Business Analyst
Location: Surat
About the company
We are a fast-growing product base company. We are on a mission to improve effectiveness of all small and medium businesses by providing them tool which manage their business operations. We believe that culture is the most important for growing of company. Our company is a place where all people feel they are connected to our mission and live our core value of Trust, Care and Excellence. We are always ready to support each other.
About the job
This position is full-time and requires working in our Surat office at least five days per week. As a Business Analyst, you will have to manage client meeting and understand requirements and prepare proposals with project manager. You'll also be responsible for documentation used by developers. Business Analyst report to the Senior Business Analyst and works with the development, product management, quality assurance (QA), marketing, and user experience (UX) teams.
Responsibilities
Evaluating business processes, anticipating requirements, uncovering areas for improvement, and developing and implementing solutions.
Leading ongoing reviews of business processes and developing optimization strategies.
Client meeting for understand requirements
Understand client story and then by doing detailed business analysis outlining problems, opportunities and solutions for a business.
Check requirement feasibility as per company's strength
Allocating resources and maintaining cost efficiency
Explain client about project requirements and technical terms
Budgeting and forecasting
Planning and monitoring
Variance analysis
Defining business requirements and reporting them back to stakeholders
Ensuring solutions meet business needs and requirements.
Staying up-to-date on the latest process and IT advancements to automate and modernize systems.
Working closely with clients, technicians, and managerial staff
Conducting meetings and presentations to share ideas and findings
Performing requirements analysis
Providing leadership, training, coaching, and guidance to junior staff
Updating, implementing, and maintaining procedures.
Monitoring deliverables and ensuring timely completion of projects.
Minimum qualifications
Commercial awareness
Confidence working with complex data and systems
Exceptional analytical and conceptual thinking skills.
Thorough ability to operate in a fast-paced environment with evolving project requirements and priorities
Excellent communication and interpersonal skills, and the ability to work with people at all level of an organization
Time management and organisational skills
Problem-Solving Skills
A bachelor's degree in business or related field or an MBA or at least five years of experience as business analysis or a related field
Excellent documentation skills
Preferred qualifications
The ability to influence stakeholders and work closely with them to determine acceptable solutions.
Data Visualization
PHD Degree in Management
Experience of working from Germany
Knowledge of German Language
Compensation and Benefits
Compensation range: Rs.6,00,000-10,00,000
Employee assistance program (EAP)
Yearly 20 Paid leaves
Flexible vacation time
Medical Insurance
Your application should include the following
A link to your portfolio and any work you have led a team through
A link to your portfolio and any work you have led a team through
Setting up structure for people and processes
Some questions...
How do you forecast people need?
How do you balance skill set?
Do you review organization structure every 3 months?
Do all people know whom they report to?
Is RACI matrix defined in the organization?
What is RACI in software development? A RACI matrix is a simple, effective means for defining project roles and responsibilities, providing a comprehensive chart of who is responsible, accountable, consulted, and informed every step of the way.
How candidate applied for job
Generally candidate applied for job by below medium
Your website's career page
Job Portal by mail
Calling you then sending resume by mail
Social Media site like LinkedIn
So once think that do you have any recruitment portal by which you can create Job Description and share it with candidate from where they can directly apply for job. Generally when candidate applied for job our HR enter candidate information into excel file manually by referring resume. Now once think that if candidate information directly stored in portal when candidate applied for job then it will reduce HR time significantly.
For job application if we have mechanism to collect additional specific information as per job description form candidate then by using that data we will take decision for candidate selection.
Semsto help you to prepare job description which you can share on website or social media by which employee can read job description and applied for job by entering information which are required by us. Semsto help you to collect information like personal details, Resume, Experience details, Expected Salary, Current Company Experience, Education, Skills, and Expertise and can also define additional details if required.
Candidate Management
After candidate applied for job next process is shortlisting and interviewing. This process is time consuming and required lots of efforts by HR team.
We are managing funnel for leads to generate sales. Like leads if we also manage funnel for recruitments then it will help us significantly to grow our team size.
You can also define status for candidate like Applied, Short Listed, Rejected, Interview Pending, In Process, and Hired but not Join, Future, Hold and No Hire. After referring resume you can decide to send candidate to Short Listed or Rejected.
Once candidate is short listed then next step is interview scheduling. For schedule interview HR need to discuss with client then have to create draft for interview invitation which is also take HR's lots of time.
If you use recruitment portal then from portal you can schedule interview directly and can also notify to candidate by email. If your recruitment portal is allow you to connect with zoom then you can also create zoom link for virtual interview.
Semsto having additional feature by which you can also select interviewer and he/she will be notified and can view resume and after completion of interview can put interview result with star rating. So later stage we can also compare candidates.
By using recruitment portal, you can also easily manage candidate follow-ups, now day's candidate having many offers so follow-up is important and can convince candidate by follow-ups.
Centralize Communication
Recruitment portal also help you to create multiple communication templates which you can directly use for all communication with candidate. Portal help you to make all communication centralized. Suppose if manage want to know communication with any candidate then he/she need to refer email send/receive by HR person who manage candidate but using portal anyone having access can view all communications.
Reference checking
Semsto having advance feature of reference checking by which you can collect reference details from candidate and can send mail to reference with details which we are required. When Reference person respond to mail with required details all detail saved with candidate details and from manager team any one can review that details and mark it as verified. So this make reference checking process very transparent and easy.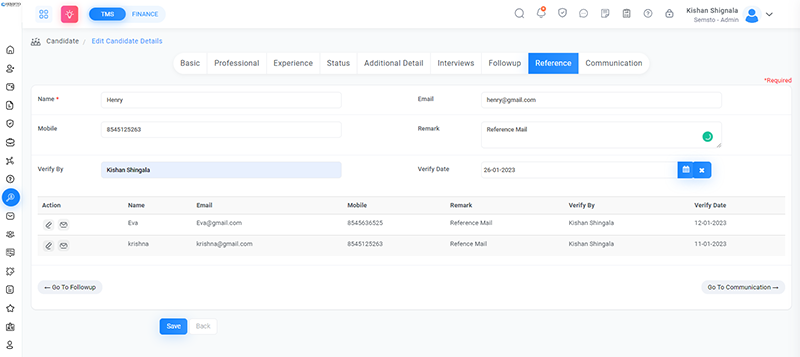 Let me ask below questions for interviews taken in your company?
Do you keep track of number of interview for candidate?
Do you give rating for each interview with review details?
Do you keep track of interviewer's time?
Do you know most effective interviewer in your company?
Do you know most effective channel for candidates?
Do you know Job Position statistics like how many candidate applied, screened and hired?