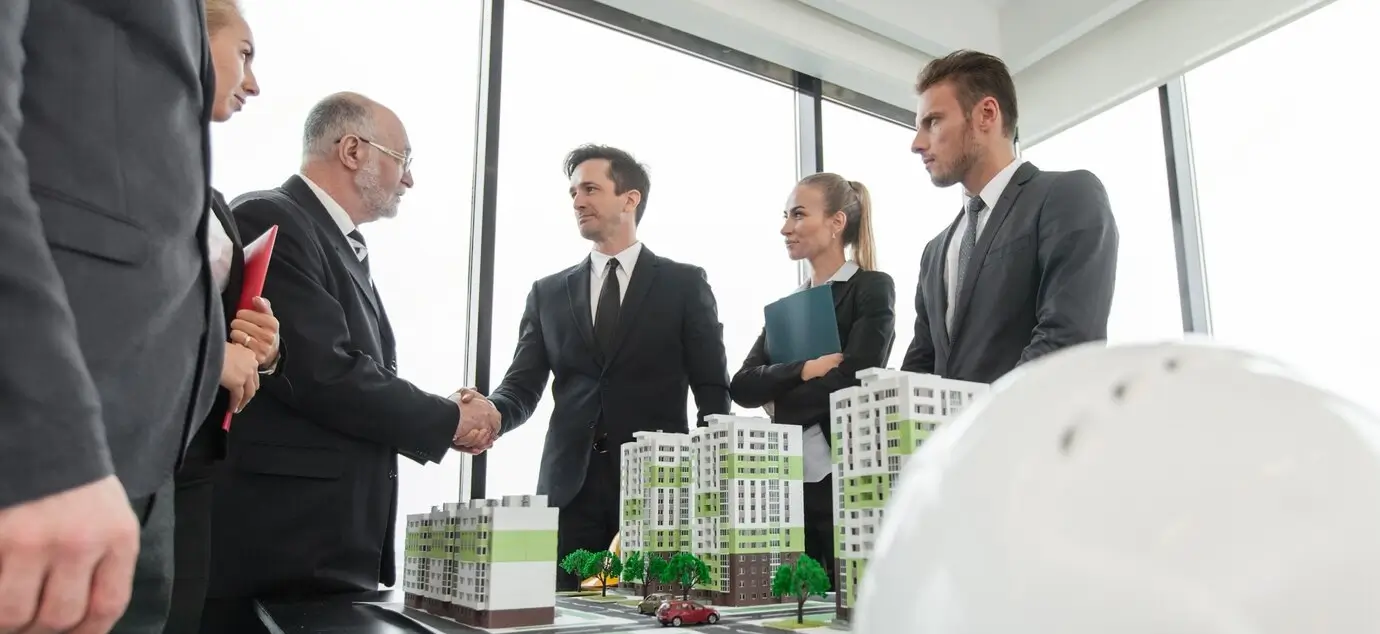 Everyday Real-Estate Made Easy
Working in a real-estate business is no less than sitting on a roller-coaster ride. Every day you meet new people and interact with suppliers, utilities, tenants, etc. You also play with a big chunk of data, and entering that data into an Excel spreadsheet only makes your work lengthier and full of chaos.
Learn how we helped one of our clients overcome these loopholes with the help of Semsto, a solution for small and medium businesses. The automation of a lot of redundant tasks not only improved the daily activities but also overall operations, which ultimately increased their ROI.
About the Project
The client is a large construction company that implements projects in house, building and facility management. As their business grew, they were facing administrative issues spread across Excel files, Google Docs, notes, chats, etc. Due to silos in their processes, and the lack of a unified system, their team could not function smoothly.
They wanted to digitize these processes in a single system that could help their employees work efficiently. That's why they landed at Semsto.
Project Plan
Our work methodology was Agile. Hence, we defined long-term goals with an ultimate deadline. We made a team of
Business analyst

Developers

UI/UX designer

QA engineer
Main Modules of our Real-Estate Solution
Clients Module
The most important module of the project was the client module. The client wanted a centralized system to manage their customer data. So, this module was made to contain information about the clients. With the role-based functionality, their managers can add, edit, and delete records per the requirements. They can also view and modify the details in customer's profiles if needed.
Here is a list of actions available
Manage personal data

View invoices and their payment status

Communicate by Email, SMS and WhatsApp

Delete the client's addresses

Manage documents

Analyse clients by parameters like roles, residential, debts, groups, etc.
Calendar
As the client was from a real-estate business, they were having a lot of client visits. We implemented the calendar module to allow clients to make appointments, leave reminders, and record events. So, using this module, their users can easily manage their time. Suppose a building manager needs to interact with multiple people, including tenants, third-party organizations, etc. In this case, this module helps them arrange tasks for a smooth workflow.
Users
This module is role-based and contains all the users. The main feature of this module is that users can access the data based on their roles. For example, a manager can access the data related to their specific areas, assigned users, tenants, etc. Senior managers can view all real estate objects and monitor their employees' work.
Newsletter
Emailing was one of the most important modules for the clients. To send information and messages related to advertising, we implemented this module for the client. Using it, clients can send emails to their customers via Semsto. They can also add a poll with multiple buttons so that users can tick a necessary box.
This feature can help the managers send the newsletter to everyone at once or to a selected group of users.
You can also overview statistics, including
The number of sent messages

The number of received responses

The ratio of mailing types

The ratio of communication channels

Delivery and viewing reports
Document Management
The client had a lot of documents to manage and store. These documents come with different purposes, like a few intended for public view and a few only for employees or upper management. After the implementation of this module, users can add, edit, and delete files. With the help of various filters, users can quickly find information.
Complaints
To log any complaints, tenants can briefly describe the situation and submit a complaint. Based on the complaint status, a complaint can be stated as new, rejected, pending, or resolved. The manager can see the new complaints in the system and take further steps accordingly. The manager can also add a comment, attach an image, text document, video, etc. This allows users to deal with complaints and help them manage customer satisfaction without contacting or meeting the customers in person.
Project delivery
Finally, we provided the customer with a full-fledged system that brought a lot of stability in terms of processes in a digital format. Now customers don't need to manage data manually in an Excel sheet. They have a central system that allows them to improve operational efficiency and increase productivity. With automation in many redundant things, managers and tenants can be in the same boat and manage things accordingly. Reduce downtime, and have a set of happy customers.
Overall, it was a challenging project as the number of data was quite large. However, it only helped us in gaining one more happy customer and a lot of experience in managing the nuances of the real estate industry and how it can be managed with a Semsto solution. The client is in touch with us, and we help them update the system as per their requirements. If you are also interested in Semsto implementation for your real-estate business and making complex processes smoother, get in touch with us. We would love to assist you further.
Take a 30-day free trial today!
If you want to know more about Semsto, click here.