Project Management
Project management helps you efficiently manage projects by analysing requirements, managing teams, establishing milestones, storing documents, and monitoring finances.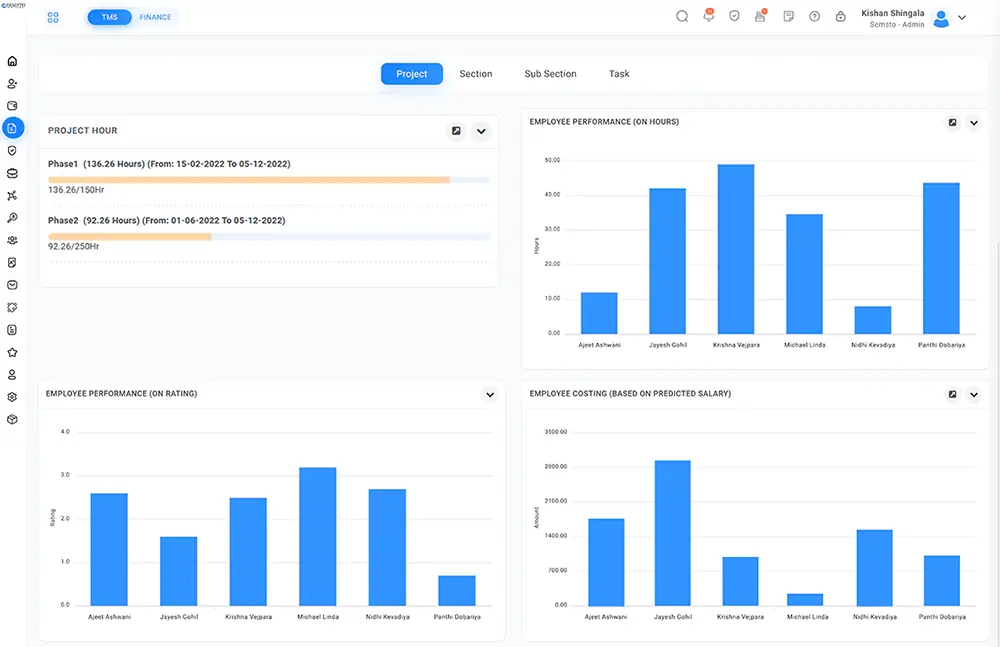 Enhance the efficacy

and success rate of your project delivery by efficiently managing the process for all project phases.
You can store many credentials of client which are required for completion of project.
Know profitability of projects and team working on it based on salary and payment receive from client
Based on completed task of employee, you can track performance of team and revenue generated
Project Requirement's analysis and approval is really important for success of project, Semsto help you to manage this process effectively
Manage Project
You can create projects, divide it into sections/subsections, track their progress and specify project milestones.
Manage Project Credentials
This tool allows you to manage internal and external credentials for a client, as well as keep track of domain or AMC expiration dates, allowing you to take action before they expire.
Manage Project Phases
Long projects are completed in phases, and each phase has its own timeframe and budget, which we may manage in this section.
Define Team & Task Flow
Define team members for projects, as well as the task flow they should manage.
Manage Documents
Throughout the project life cycle, you must collect and store numerous documents. This section helps organize your documents.
Requirement Management
Keeping track of and storing all customer requirements is essential for the success of a project. All of these requirements can be collected by the requirements gathering team and communicated to the person responsible for verification.
Know Profit Earn Through Employee
You are able to identify profit earn by each and every employee who are working on project.
Know Project Profit
Know an overview of your project, including how many hours of work have been completed, what salary you have paid, and what you have on hand.
Project Hour Analysis
Know how much time was invested in each part of the project.
Keep track of all credentials of client's projects
Managing documents related with project
Not aware about profitability of project
Don't able to take data driven decision due to lack of data
Project Task Flow Management
Requirement gathering and approval process
Why Project Management?
Importance of Project Management Tool
Project management tools can play a critical role in software development by helping organizations to plan, track, and manage software projects more effectively. Some of the key benefits of using a project management tool in software development include:
Project Planning: Project management tools can help to plan and define software development projects, including setting project goals, defining tasks, and creating schedules and timelines.

Resource Management: Project management tools can help to manage resources, including developers, designers, and stakeholders, and ensure that everyone is working together effectively.

Task Tracking: Project management tools can help to track tasks, including their status, progress, and dependencies, making it easier to see how the project is progressing.

Collaboration: Project management tools can facilitate collaboration and communication between team members, allowing developers and designers to work together more effectively.

Budget and Cost Management: Project management tools can help to manage budgets and costs, allowing organizations to track expenses, see how much resources are being used, and make adjustments as needed.

Risk Management: Project management tools can help to identify and manage risks, allowing organizations to anticipate and mitigate potential issues and avoid delays.

Quality Assurance: Project management tools can help to ensure that software projects are delivered on time, within budget, and to the required quality standards.
Overall, project management tools can help organizations to improve the efficiency and effectiveness of software development projects, ensuring that they are delivered on time, within budget, and to the required quality standards.
How Semsto help you to manage your project
Semsto Project Management tool is designed to help organizations manage their projects, workflows, and operations more efficiently. Some of the things that you can do with Semsto include:
Task Management: You can create, assign, and manage tasks for individual team members or for the entire team. You can also set deadlines, priorities, and track progress.

Project Planning: You can create project plans, set milestones, and manage schedules. You can also assign resources and track project progress.

Resource Management: You can manage resources such as personnel, equipment, and materials. You can also allocate resources to specific projects and track resource utilization.

Collaboration: You can collaborate with team members in real-time and share files, documents, and other project-related information. You can also communicate through chat and discussion forums.

Reporting: You can generate reports and dashboards to track project performance and key performance indicators. You can also generate custom reports based on specific data criteria.
These are just some of the things that you can do with Semsto Project Management tool. The exact features and capabilities will depend on the specific version and configuration of the tool.